---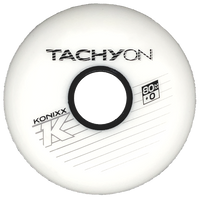 The Tachyon combines our proven dual pour construction process with our 
U-Base3™ formula
and just the right combination of our Tech-X™ additives. The result brings you a high end wheel without the full high end price tag. Ideal for youth and adult skaters under 190lbs. 
Tech Specs:
- Dual Pour Construction
- Features Konixx U-Base 3™ formula
- Performance boosted with Konixx Trac-Tech™, Infini-Tech™, & Veloci-Tech™ additives
- Offered in +0 stiffness
- Available in 59*, 68, 72, 76, and 80mm
Surface Recommendations:
The Tachyon is ideal for all tile surfaces, however note that surfaces with large perforations, such as DEK tile or others like it offer less surface area for the wheel to hold onto and may not offer the same results as other tiles surfaces. 
*59mm Tachyon wheels are designed for lighter weight players, not goalies. Goalies click HERE to view the Konixx Nucleus goalie wheel.