---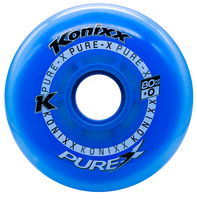 We took everything players loved about the Pure and made them better. The Pure-X and it's U-base4™ formula takes the unparalleled grip Pure users have come to trust and made it grippier. With a stiffer feel and a longer optimum performance period, the Pure-X is everything you'd expect the next generation of the Konixx Pure to be!
Tech Specs:

Dual pour construction

Features Konixx U-Base 4™ formula

Performance boosted with Konixx Trac-tech-X™, Infini-tech-X™, & Veloci-tech-X™ additives for extreme traction, durability, and speed

Offered in: +0, +1, and +2 stiffnesses. Click HERE for help figuring out which + rating is right for you.

Available in 76mm and 80mm only

 
Surface Recommendations:
The Pure-X is ideal for all tile surfaces, however note that surfaces with large perforations, such as DEK tile or others like it offer less surface area for the wheel to hold onto and may not offer the same results as other tiles surfaces.