---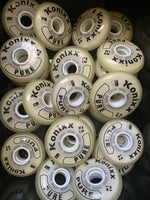 Sale
**Discolored Product**
The Pure wheel is constructed using natural urethane with no colors or dyes. Natural urethane however will discolor under long exposure to UV lighting such as sunlight or florescent lighting used in most retail stores. 
All the Pure wheels on this product listing are unused, first quality Konixx Pure wheels that have discolored from such exposure. The discoloration in no way effects the performance of the wheel. 
Our standard warranty against manufacturer defects stands on these products, however all sales are final for non-warranty related issues. 
Wheel discoloration will vary from wheel to wheel. Not all + rating or sizes will have the same discoloration. 
Please purchase knowing all of this information. 
The Pure is a no compromise, premium dual pour indoor wheel, built to optimize speed, grip and wear.  It is available in three stiffnesses (+0, +1, and +2) that will accommodate your weight and skating type.  Visit our Stiffness Information page for more details.
Tech Specs:
- Dual pour construction
- Built on the Konixx Dual Core™ hub
- U-base 3 formula w/Trac-tech™, Infini-tech™ and Velocit-tech™ additives
- Available in +0, +1, and +2 stiffness to allow user to micro adjust for their body weight, skating style, and surface. 
- Offered in 59mm - 68mm - 72mm -76mm - 80mm