---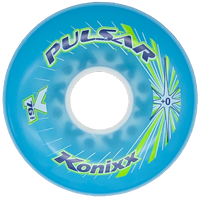 The NEW Pulsar from Konixx takes the performance and durability you've come to expect from Konixx and delivers them onto a single pour wheel. Our proven U-Base3™ formula is married to the new Konixx K-Core™ hub to give you the best balance of rigidity and firmness, without compromising the wear of the wheel. 
Tech Specs:
- Features the all new Konixx K-Core™ hub for an optimum balance of wheel rigidity and flex
- Poured with the Konixx U-Base 3™ formula
- Performance boosted w/ Konixx Trac-Tech™, Infini-Tech™, & Veloci-Tech™ additives
-Offered in +0 stiffness, optimum for up to 200l bs 
- Available in 59, 68, 72, 76, and 80mm
Surface Recommendations:
The Pulsar is ideal for all tile surfaces, however note that surfaces with large perforations such as DEK tile or others like it offer less surface area for the wheel to hold onto.