---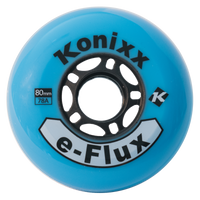 The e-Flux stands for "everything" and that's because it's your "no compromise" wheel for smooth non-tile rink surfaces. If you play on; smooth or painted concrete, roll on, or wood floors, you no longer have choose between grip versus durability versus speed.
Tech Specs:
- Single pour construction
- Built on the Konixx 5-Star™ hub
- U-Base 2 formula w/Multi-thane 2X™ & Fast-thane 2X™ additives
- Available in +0 stiffness; ideal for most youth and adult body weights. Recommended for tile or other non-abrasive surfaces.
- Offered in 59mm - 64mm - 68mm - 72mm -76mm - 80mm