---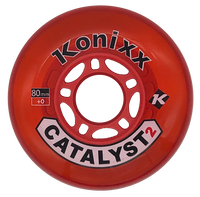 The Catalyst2 is the next gen of the popular Catalyst wheel - an even better premium performance wheel.  It's simply a high quality, grippy wheel, with an impressive life span that doesn't break your budget.  The Catalyst2 comes in our +0 stiffness and should do the trick for most body and skating types.

Tech Specs:
- Single pour construction
- Built on the Konixx 5-Star™ hub
- U-Base 2 formula w/Glue-thane 2X™ & Fast-thane 2X™ additives
- Available in +0 stiffness; ideal for most youth and adult body weights. Recommended for tile or other non-abrasive surfaces.
- Offered in 59mm - 68mm - 72mm -76mm - 80mm 
Surface Recommendations:
The Catalyst2 is ideal for all tile surfaces, however note that surfaces with large perforations such as DEK tile or others like it offer less surface area for the wheel to hold onto and may not offer the same results as other tile surfaces.