---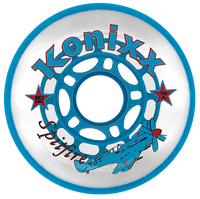 The Spitfire is an excellent entry level, multi-surface wheel for the skater who is looking to find that balance between too hard and too soft. With our high rebound urethane formula and our proven five-star urethane hub, the Spitfire does it all without killing your wallet.
Tech Specs:
- Single pour construction
- Built on the Konixx 5-Star™ hub
- U-Base 1 formula w/Multi-thane™ & Fast-thane™ additives
- Available in 78a stiffness; ideal for most youth and adult body weights.
- Ideal for coated/painted concrete or wood surfaces
- Offered in 59mm - 64mm - 68mm - 72mm -76mm - 80mm